2009 Coaches
Hall of Fame Inductees
Ken Davis – A native of
Pottstown, Davis graduated from Pottstown High and East Stroudsburg University.
After two years teaching in Bangor, he returned to the Pottstown School District
where he taught and coached for the next 30 years. After spending a number of
years working his way up the coaching ladder, Davis was handed the reins at
Pottstown High in 1980 and has fashioned a 374-101 varsity record since. He
wasted little time in establishing his team as a perennial power. By the 1982-83
season he won his first District 1 Class AA championship. His teams would go on
to play in 10 district championship games. When Pottstown High moved up to AAA
classification, even though the competition stiffened, the dominance continued.
Pottstown won the District 1 AAA championship in 1988, 1989, 1991, 1992, 1993
and 1995. Davis led his team into the state tournament 13 times and made it to
the quarterfinal level seven times. The highlight of his career came in 1993
when Pottstown won the state championship. Other high water marks included a
27-1 record in 1988, a 28-3 record before losing in the state title game in 1991
and a 30-2 record in 1995. In eight different seasons Davis received Coach of
the Year awards from different organizations.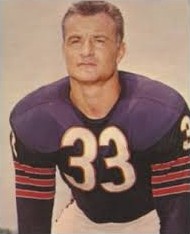 Larry Glueck
– One
of the most storied athletes ever to come out of Lansdale Catholic High, Glueck
was named the MVP in football, basketball and baseball during his senior year,
1958-59. He then went on to a standout football career at Villanova, a
three-year starter at running back and defensive back. He played in the Sun Bowl
and Liberty Bowl before playing in the historic 1963 College All-Star Game in
Chicago, in which the college team defeated the vaunted World Champion Green Bay
Packers 20-17. After an injury shortened three-year career with the Chicago
Bears, Glueck began his coaching career as an assistant at Upper Merion High
under Fran Murphy. Soon he moved to the college ranks, serving as a highly
regarded assistant coach at Villanova, Penn, Lehigh and Harvard. His defensive
acumen was known throughout the college ranks. In 1986 Glueck became head
coach at Fordham (N.Y.) University. He was immediately honored as Liberty
Conference Coach of the Year in 1987 and 1988. The Rams made it into the
Division II national playoffs in 1987, defeating Hofstra in a first round game.
In 1990 Glueck took on the greatest challenge of his career, leading Fordham in
the transition from Division III to Division I AA. He left Fordham after the
1993 season and has kept busy by coaching and teaching independently in camps
and instructional clinics.
Vonnie Gros –
When
Vonnie Gros came to Ursinus in the mid-50s, she embarked on one of the school's
most celebrated athletic careers. In 1957 she was named All-American in both
field hockey and lacrosse. She then played on the United States National Field
Hockey Team for 13 years after graduating from Ursinus. But she would go on to
make an even greater name for herself as a coach. At West Chester University she
coached the field hockey team to a 118-6-13 record. She also coached the
lacrosse team. Gros also went on to coach field hockey at Princeton and Ursinus,
but it was on the national and international stages that she really gained
recognition. She was selected to coach the U.S. Olympic field hockey team in
1980. It was the athletic highlight of her life, only to be ruined when the
United States decided to boycott the Olympic Games in Moscow. Fortunately, Gros
would receive a second chance when she was asked to return to coach the 1984
Olympic team. Despite being heavy underdogs, she led the U.S. to a bronze medal
in 1984, a breakthrough accomplishment for the country in that sport. She has
been inducted into the USA Field Hockey Hall of Fame (1988) and the
Philadelphia/Eastern Pennsylvania Chapter Lacrosse Hall of Fame (2002).
---
2009
Community Coaches
Honor Roll Inductees
Vince Souto
– Not only did Vince Souto give of his timme, leadership and baseball expertise for
27 years at the helm of the St. Titus CYO baseball program, but he molded teams
from the tiny parish into powerhouses throughout the Philadelphia Archdiocese.
His teams won eight Region 21 CYO championships and twice captured the
Philadelphia Archdiocesan title. Souto also spent four years as a coach for the
East Norriton Junior Legion team and two years as a coach of the East Norriton
12-year-old girls softball team. A patient coach, with a quiet but firm way of
leading his players, Souto made many friends throughout the St. Titus Athletic
Association (STAC). Many of his players have kept in touch with him over the
years.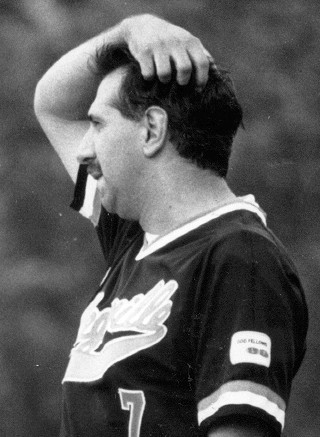 Mike Creciun
– During the '80s and early '90s, when the Perkiomen Valley Twilight League
returned to a position of dominance among amateur baseball leagues in Eastern
Pennsylvania, Mike Creciun was one of the most notable figures in the league's
reemergence. First as a player, then as a manager, Creciun was constantly
involved in rebuilding the league. After a notable career as a player, Creciun
took over the manager's position with the Norristown A's. In four seasons he
guided them to three final series appearances and one Perky League championship.
In 1987 he moved over to rival Collegeville and solidified his role as an
outstanding manager. He led Collegeville to six championships in eight seasons,
putting a firm grip on the word "dynasty." It was during that time he did the
most to advance the image of the Perkiomen Valley Twilight League.
Hank Cisco
– Over the years Frank "Hank Cisco&##8221; Ciaccio has been honored on so many different
levels that it only seems natural to go back to his younger days when he first
made a name for himself. Before he ever became a television show host or the
official Ambassador of Norristown, Cisco was a young police officer who took a
special interest in kids. Passing on knowledge from his days as a professional
boxer, Cisco started programs to take youngsters off the streets and into the
gym. Not only did he teach them how to box, he taught them self-respect and the
value of self-discipline. Today, there are countless numbers of area businessmen
and civic leaders who are proud to say that they learned a bit about boxing
under the tutelage of Cisco.
Rich
Lachenmayer – For 26 of the last 34 years, Rich Lachenmayer has been coaching baseball on some
level in Upper Merion Township. He first got involved with the Upper Merion
Baseball Association and got involved on a number of different levels. He also
served on the UMBA Board of Directors for five years. In 1985 he helped found
the Upper Merion High School Booster Club. He then got involved on the American
Legion level as an assistant coach for both the Vito's Pizza and Madison Bank
teams. From 1997 to the present he has served as both assistant coach and
manager of the Valley Forge Generals in American Legion baseball and has become
well-known in area baseball circles.
---
2009
Lifetime Achievement Award
Bob Levy
– Levy's legacy began 56 years ago, in 1953, when he
founded the Little Quakers. No, the Little Quakers is not some sort of peace
movement for youth. In fact, the Little Quakers have delivered their share of
punishment to those they faced over the last 56 years. Instead the Little
Quakers is a non-profit organization founded to promote excellence in youth
football for the Greater Philadelphia area. More than 2,000 13 and 14-year-old
boys, not weighing more than 145 pounds, have been blessed by Levy's foresight
and generosity. His vision of an outstanding academic All-Star team has
withstood the test of time. "I feel very honored to receive this award but,
honestly, my work with the Little Quakers has been a labor of love," explained
Levy, when contacted about the award. Over the years Levy has served as head
coach and financier of the Little Quakers. A longtime resident of Lower Merion
Township, Levy has devoted countless hours to his pet project. Each year a 35-40
boy squad is selected from more than 300 candidates from the top boys' leagues
in the Delaware Valley. The boys are recommended by their league coaches and
they must be excellent students academically, as well as being standouts on the
football field.
---
2009 Special
Achievement Award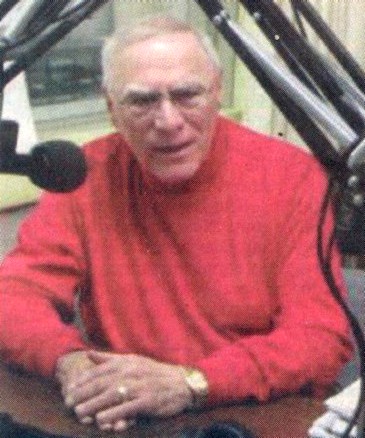 Jim
Church – There might not be anybody in Montgomery County who knows the area's coaches
better than Jim Church. For 40 years he has covered their accomplishments,
announced their games, exalted in their victories and sympathized with their
sorrows. He has listened to them, broken bread with them, gone on the road with
them and – at times – even argued with them. But, he has always understood
them and done his level best to convey their emotions and strategies to high
school sports fans throughout the region. In many ways, he is as much a part of
the area high school sports scene as the coaches and the players. That is
why, after 40 years of sitting behind the microphone in the press box, the
Montgomery County Coaches Hall of Fame is bestowing its Special Achievement
Award on Church at its annual Induction Banquet. And that includes Church's
service, guidance and leadership as one of the first members of the Montgomery
County Coaches Hall of Fame Advisory Board, where he was tabbed to serve on its
Selection Committee. He was the veteran of a group that charted unexplored
waters in Montgomery County sports. Church's connections to the county go back
to his years as a three-sport star at Lansdale High School (now North Penn). In
1960 he began broadcasting high school football games on WNPV 1440-AM in
Lansdale. He serves as chairman of the Montgomery County All-Star football game.
And his weekly Saturday morning talk show "From the Bench", also on WNPV, has
profiled just about anyone who ever made a name in Montgomery County sports.