2007 Coaches
Hall of Fame Inductees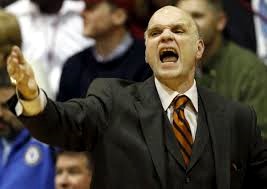 Phil
Martelli – A  native of Delaware County and a
graduate of Widener University, Martelli began making his name as a head
coach at Bishop Kenrick High. In his seven years guiding the
Knights, his accomplishments were so outstanding that he earned
consideration as one of Montgomery County's greatest coaches.
Never before or after Martelli has the school ever been
considered a consistent basketball power, but he led Kenrick to
a school-record six consecutive Catholic League playoff
appearances. At St. Joseph's Martelli quickly developed a
reputation as a savvy coach, as well as one of the most colorful
personalities in the country. His highlight came in 2004 when he
led the Hawks to the No. 1 ranking in the country (27-0 record) and earned NCAA Coach of the Year honors. While his annual accomplishments
on Hawk Hill are impressive, it is in the community where Martelli makes the most impact. He is one of the leaders of the
Coaches vs. Cancer effort in Philadelphia and is a tireless
spokesman for the fund-raising effort.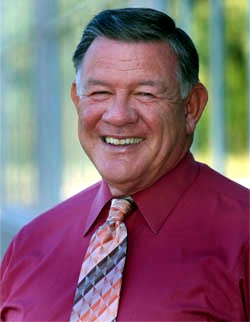 Brian
Thomas – has had baseball in his blood since
his high school days at Plymouth Whitemarsh High. A star player, he
joined the Army after high school and was a highly decorated veteran
in Vietnam. Upon his return, he received an undergraduate degree
from Philadelphia University.He began his coaching career at Perkiomen Valley
High then became a coach and administrator at the Perkiomen School.
In 1990 he became head baseball coach at Ursinus College and began
building a successful program. He took Ursinus to its first NCAA
Division III tournament in 1999 and is now the winningest baseball
coach in school history. He has more than 300 college victories. Thomas' accomplishments are even more impressive
on the Jr. American Legion level, where he has coached teams to the
Pennsylvania Jr. Legion Sectional and State playoffs more than 15
times. He holds an unofficial state record of 41 straight Jr. Legion
league victories. Thomas was voted to the Pennsylvania American
Legion Sports Hall of Fame in 1999 and was inducted into the
Perkiomen School Hall of Athletic Honor in 2001.
Steve
Harner – When the sport of wrestling is mentioned, the
name of Steve Harner is always the first to enter the discussion.
Nobody has combined a passion for the sport, along with success at
the high school and national level the way Harner has. For 20 years, from 1985 to 2004, Harner built a
powerhouse wrestling program at Norristown High. During that tenure,
the Eagles won eight Suburban One championships. They were also
Section Champions six times, District Champions three times and
Regional Champions three times. While Harner is very proud of the fact that 22 of
his Norristown High wrestlers received All-America honors, he is
equally proud of his 10 Academic All-America selections. Harner also
produced 38 all-state wrestlers at Norristown. Although Harner is all about his team
accomplishments, he was named Suburban One Coach of the Year eight
times. Another three times he was named District 1 Coach of the Year.
---
2007
Community Coaches
Honor Roll Inductees
Rod
Johnson –
A graduate of Spring-Ford High School in 1975, Johnson is still
listed as one of the school's greatest three-sport athletes. He made
his mark in baseball, becoming a Hall of Famer at Temple University
and playing for in the Cincinatti Reds farm system, where he was
named Minor League Rookie of the Year in 1979 and advanced to the
Triple A level.
He immediately became involved in coaching youth sports, first as
the manager of the Spring City Red Sox team from 1983 to 1992.
During that span he won five league titles. He then went on to coach
the Paoli American Legion squad, inheriting a team that went 1-21
the previous year and quickly building it into a powerhouse.  His
success at the American Legion level brought him notoriety
throughout the region and in 2002 he was named assistant baseball
coach at Villanova University, a post he still holds today.
Earl
Mercadante –
In the many years of storied history of Plymouth Township Little
League, there have been a number of giants who helped create the
legacy. Earle Mercadante is another example of consistent
excellence. He
gave more than 35 years of uninterrupted service for Plymouth Little
League as president, vice president, manager, umpire and chairman on
the Executive Board. During that tenure, Plymouth Little League
developed a reputation as one of the shining examples of a
community-run youth sports organization in the state. He
has authored a number of handbooks for Little League managers.
Frank
"Doc" Bishop –
A heralded athlete at Norristown High, Frank Bishop went on to
become a star baseball player at Temple University. Although he went
on to dental school after his undergraduate days and established a
successful dental practice in East Norriton Township, Bishop never
lost his thirst for the game of baseball. He
took over the East Norriton Junior Legion program and his been its
coach for more than 30 years. He has had a number of successes over
the years but his greatest accolades come from the help he is always
willing to give young baseball players of any age or from any area.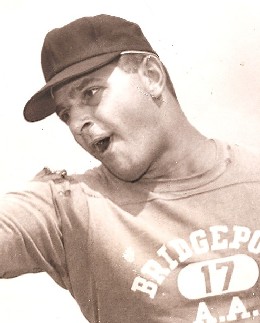 Tony
"Chic" Chiccino –
It has been more than 20 years since the unexpected death of Tony Chiccino at age 51, yet there is still an absolute reverence
whenever his name is mentioned in the Bridgeport area.
Chiccino first got noticed as a star athlete at Bridgeport High –
such a star that the legendary Coach Bear Bryant, then at Kentucky,
found his way to the tiny school and recruited the bruising
fullback. After college and a stint in the military, Chiccino
returned to Bridgeport, where he began a career of service to the
community.
Although a noted football coach at Bridgeport, Upper Merion and
Phoenixville High (the school's greatest team, 12-0 in 1978), it was
in the community where he really shined. He started Bridgeport's
famous Alabama Booster Club, pledging allegiance to Bear Bryant. He
even got the coach to speak at the Holy Name breakfast in 1978. Each
summer he ran the community rec programs during the day and the
Bridgeport Softball League at night. He served as president from
1960 to 1985. Today,
his legacy lives on in Bridgeport, as thousands of athletes play on
the Anthony J. Chiccino Memorial Fields.
---
2007
Lifetime Achievement Award
Jim
Randolph – He is one of the truly beloved gentleman of sports in
Montgomery County. He was a star athlete and native of Norristown.
Randolph excelled in football and baseball at Shaw University in
North Carolina. He returned to his roots after playing in the
Baltimore Orioles minor league organization and with the U.S. Navy
Special Services team. 
He
then began a distinguished career as a teacher, coach and
administrator at Montgomery County Community College (Montco). It
was at Montco that Randolph took a fledging baseball program and
built it into a powerhouse. His teams won a total of 206 games and
in 1980 and 1981, he led the Mustangs to back-to-back Pennsylvania
Community College championships. He then spent a few years coaching
golf at Montco. He then moved from the playing fields to an office
and became the Director of Athletics at Montco. Aside
from his duties on campus, Randolph always found time to assist with
community activities and area fundraisers. His work with the Times
Herald Baseball School, Lions club, Big Brothers and Big Sisters
Association and the Senior Activities Center throughout the area are
among his many civic endeavors.