2002 Coaches
Hall of Fame Inductees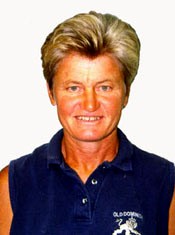 Beth Anders – Graduate of Plymouth-Whitemarsh High School. All-American in both Lacrosse and Field Hockey at Ursinus College in nearby Collegeville.
Led Team USA to the Bronze medal in the 1984 Los Angeles Olympic Games. Scored 8 of the teams 9 goals to established scoring record that still stands today. Coached Old Dominion to nine NCAA National Championships. She has amassed 400 plus career wins, tops in Division-1 Field Hockey history.
Tom Lasorda – Norristown Native, Major League Baseball Player, Major League Manager for Los Angeles Dodgers for 20 years, won four National League Pennants and two World Series. He was enshrined into National Baseball Hall of Fame in Cooperstown, NY in 1997. Managed Gold Medal winning baseball team (Team USA) in 2000 Sydney Olympics.
Hank Stofko – Plymouth-Whitemarsh Head Basketball Coach for 32 years where he has amassed a 583-231 record. His teams have won eight Suburban One League titles and four District 1 crowns, reaching the state championship game on two occasions including winning it in 1963. He has a total of 654 career wins as a High School Coach.
This total includes short stints at Warwick, which is now part of Owen J. Roberts School District and Boyertown High.