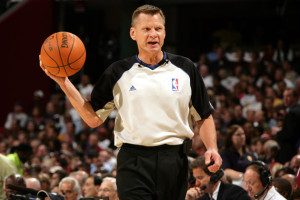 Steve Javie – a Montgomery County native who went on to a renowned career as an NBA referee and now mentors young officials in the league – will be honored with the Lifetime Achievement Award at the 14th Montgomery County Coaches Hall of Fame banquet on Tuesday, November 24 at Normandy Farm in Blue Bell.
Before his officiating career began, Javie crafted a stellar athletic career of his own. He grew up in Whitemarsh Township and attend LaSalle College High School, where he starred in baseball, football and basketball. Following high school, he continued his athletic and academic career at Temple University, earning a bachelor's degree in business administration. A star pitcher for the Owls, Javie signed a professional contract with the Baltimore Orioles, but retired after one year due to an arm injury.
Following in the footsteps of his father Stan Javie, a well-known NFL referee for many years, Javie turned to officiating. At first, he became a baseball umpire, working a number of years in the minor leagues. During the offseason he worked as a PIAA referee on the high school circuit. He quickly moved up the chain. In 1981 he was hired by the Continental Basketball Association and worked at that level for five years before landing in the NBA in 1986.
Javie quickly established himself as one of the highest rated, as well as most colorful officials in the NBA. He continued officiating until 2011. He is still active in mentoring and assisting young officials. Along with his wife, Mary Ellen, they founded the Javie Foundation for Charity, raising money for homeless, neglected, abused and disabled children.
This will not be Javie's first appearance at the Montgomery County Coaches Hall of Fame Banquet. He has attended others in support of the inductees and was a guest speaker at the 2013 induction banquet and was quite surprised when notified of his invitation to come back for the 2015 banquet.
"This is shocking and an incredible honor for me," said Javie. "I have attended a number of banquets and just marvel at the coaches I see on the dais. Now I am going to be sitting up there with them. I am humbled and incredibly honored to be considered for this."