Jim Fenerty
           Starting his basketball coaching career at Bishop Egan High, in the very competitive Philadelphia Catholic League of the 1980s, Jim Fenerty learned a lot – mostly humility. His coaching record at Egan was 61-138. But he took some well-earned lessons with him to Germantown Academy in 1990. Over the next 25 seasons, he built Germantown Academy into a national power.
Over that span he notched a 151-59 record on Inter-Ac play, including 13 league championship and four undefeated league seasons.
His overall record is even more impressive, since it was formed playing some of the top high school basketball teams in the country. He has compiled a record at GA of 460-196. Including his wins at Egan, he surpassed a major milestone during the 2011-2012 season, winning his 500th game. He is only the seventh coach in Philadelphia high school basketball history to have more than 500 victories.
Fenerty has coached 20 players who went on to play at the collegiate Division I level and two who went on to play in the NBA.
Rick Pennypacker
After graduation from Spring-Ford High School in 1972, Pennypacker went to West Virginia University where he played under the legendary Bobby Bowden. He earned three varsity letters and played in the Peach Bowl.
Upon his graduation from college, he began a coaching career in baseball, football and basketball on the high school level in Virginia and West Virginia. He returned to Montgomery County, taking over the football program at Pottsgrove in 1989. He made an immediate impact, winning Pottsgrove's first Pac 10 football championship in 1990.
That began a string of nine Pac 10 championships – including seven undefeated seasons – through 2012. That run included two District Championships in 2001 and 2009. He is the all-time Pac 10 leader in games won, with a record of 160-61-4. His all-time record at Pottsgrove High is 205-80-4.
When it comes to honors, Pennypacker has plenty. He was named the District One Coach of the Year in 2003 and 2009. He was the Nike Pennsylvania AAA Coach of the Year in 2012. He was inducted into the Tri County Hall of Fame and the Pottsgrove school board named the high school's stadium after him.
Dominick "Mick" Lorusso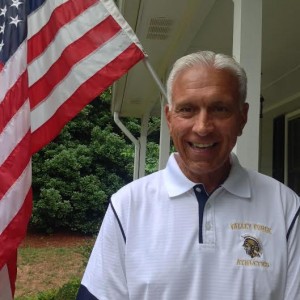 Dominick Lorusso has been associated with Valley Forge Military Academy for more than four decades, serving the students as a teacher, the Head of the Department of Health and Physical Education, and Director of Athletics. He began his career in 1972 and retired in 2014.
He is the only coach in the history of Valley Forge to record more than 250 career wins, and did s
o in two sports — baseball and wrestling.
In baseball, his teams won 300 games.  Along the way, he led the Trojans to six championships in the school's own Trojan Spring Classic Baseball Tournament, an event he created, and has taken his team to the state playoffs seven times.
His storied 1981 team, which went 19 and 4, tied a national high school record for team batting average for a season, hitting an incredible .410 as a team.  He was honored by the American Baseball Coaches Association for his quarter of a century coaching.     In wrestling, Lorusso's teams compiled 286 meet victories, and accumulated an additional 37 tournament championships.  This includes securing five titles in two of the tournaments which he founded, the Cadet Invitational and the VF Duals.
Over a three-year period in the late eighties, his Trojan teams went 48-2, finished second in the states twice, and won the state team championship in 1988, the only team state championship in the school's history.
He produced 14 individual state wrestling champions, and more than 30 National Prep School All-Americans. He was recognized by both the National Wrestling Coaches Association and the American Baseball Coaches Association for 100 and 200 wins during his coaching tenure at VFMA.
Raised in Oreland, PA, Lorusso attended Springfield (Montco) High School, and went on to play collegiate baseball at Concord College in Athens, WV.  Although announcing his retirement from Valley Forge Military Academy in June, he could not stay retired long. He currently is working as assistant athletic director in Georgia.